About our company
ORIGIN
Since over 140 years ago, Verhoest has been making agricultural machines and has built an excellent reputation among the surrounding farmers. The company has always evolved and is well-matched to the demand. The offer was expanded with leek harvesters, peeling machines, washing machines, planting machines, trailers and hydraulic spraying machines.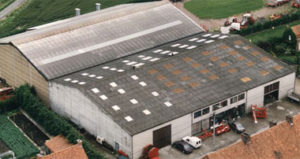 The purpose of our designs is always to simplify the work on the field. We listen to the surrounding farmers so we can provide functional machines that work smoothly for years throughout Europe.
Our in-house construction and constant search for new methods ensure a consistent quality that is praised everywhere. Our permanent service stands for a quick solution for any problem.
History
01. 1869
Pieter Verhoest, blacksmith in Rumbeke, started to focus on the construction of agricultural machinery. Later on, his son Henry joined the company.
02. 1937
Between the two wars, the company was taken over by the brothers Paul and Gustaaf Verhoest, sons of Henry.
03. 1986-Present
Marc Verhoest, son of Gustaaf and therefore member of the fourth generation, as head of the company. He is backed by his wife Magda Vandamme and also children Ann and Bart put their shoulders to it. The team consists of fifteen devoted people.
"Wherever vegetables are grown, our machinery is involved"."Our sales area covers Belgium, Europe and the whole Anglo-Saxon market (New Zealand, Australia, Canada, the United States, etc.). Our machinery is mainly used for growing leek, cauliflower and flax, but we also provide spraying machines, trailers and harvesters.
Although standard machines already offer a lot of possibilities, the company has recently also been focusing on customized solutions. "It is crucial that the machines meet the current technological requirements. In that context, especially the hydraulic drive and control by PLCs is important. We take care of the construction ourselves in our warehouses. In addition, it is essential to provide a good service."
Responding creatively to the current market needs is of paramount importance. "In that context, you must be able to rely on the right staff, but we find that finding competent new forces is not that easy. Moreover, the agricultural sector currently faces quite some challenges, also because the vegetable growers do not always get the price they deserve for their hard work. Fortunately, our well-filled order book is the best proof that people still invest in high-quality machinery at a correct price."